Dear Valued Customers,
Kings Energy Services is aware that there concerns about operations and supply chain disruptions due to the current COVID-19 situation. Through our corporate preparedness planning, we have successfully activated our business continuity program that ensures our operations and supply chains are secure. Our proactive approach also includes precautionary measures to ensuring the health and safety of our colleagues, customers, and vendors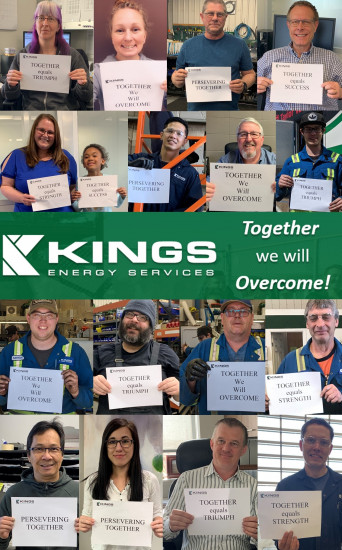 ~Implementation of mandatory Health and Safety practices to ensure our team members and customers can operate cohesively in a safe and healthy environment.
~Communicating with our vendors and transport companies daily ensuring their corporate preparedness plans are sound while obtaining commitments to limit disruptions.
~Ensuring our valued teams are prepared to handle all service and supply requests through a continuity plan, working effectively with a reduced workforce.
~Virtual communications and support through technology, minimizing the need for unnecessary travel and site visits.
Kings Energy Services continues to monitor the COVID-19 pandemic and assess inherent risks accordingly. Based on the most recent information received we are anticipating being able to maintain our high service and supply levels. As variable situations arise, we will adapt quickly to mitigate potential disruptions.
Kings is working with our teams to protect our valued customers and colleagues while maintaining a high-quality level of service. We will be communicating updates via email, social media, and our website should situations change. If you have any questions or concerns, please reach out at 1-866-660-KING (5464) or info@kingsenergy.com.
Thanks for your support in these trying times.
Warm regards,
Jason King
Chief Executive Officer