Barber Pigging Valves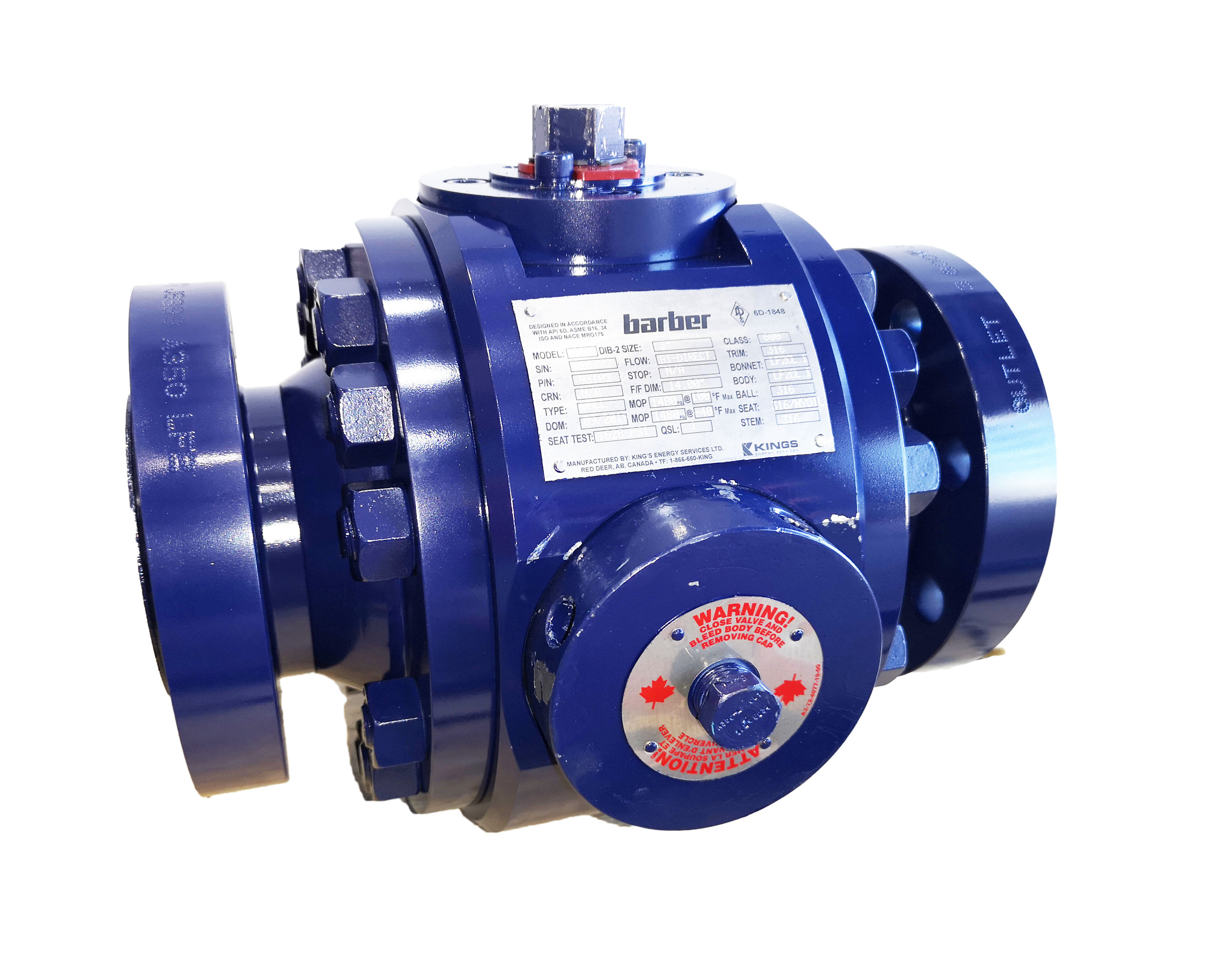 Barber Pigging Valves
Effective January 1, 2009 King's Energy Services has acquired all the manufacturing, distribution, patent, & trademark rights to the Barber Pigging Valve. Manufacturing has begun on valve sizes ranging from 2" through 8".
Barber Pigging Valves are an established, reliable, and effective way of sending and receiving pipeline pigs. For decades Barber has proven its reliability in the oil & gas industry and continues to be the most cost effective environmentally friendly solution to any pigging requirement.
The Barber pigging valve design is a simple, safe and convenient way to insert and remove flow line pigs. It eliminates excessive equipment and reduces the number of operations, thus limiting expenses and loss of product.
Construction
Materials meet API specification 6-A & 6-D, for low temperature -46C (-50F)
N.A.C.E standard MR-01-75 for sour service
The Valve Ball is type 300 stainless steel, surface hardened by Nitrating to resist scratching & corrosion.
Various valve coatings or material options available for customer specifications
Seat carriers are type 300 stainless steel with seat inserts of various materials to meet specified applications.
The 2" & 3" Barber Pigging Valves have a seat supported ball.
The 4" through 8" Barber Pigging Valves have a trunnion-mounted ball to reduce low turning torque.
On flow line applications that transition from 2" to 3" or from 3" to 4" the larger valve can be installed to receive and send both sizes of pigs thus simplifying applications and reducing costly expenses.
Features
Over-sized entry bore to accept swollen pigs
Entry cap vent holes to provide positive release of trapped pressure before removal.
Bleed valve connections (1/2" NPT) to facilitate a choice between venting and draining
Integral Flanges
Easy shop/field maintenance.
Replacement parts and seal kits are readily available
Positive stop plate is easily repositioned 90 degrees on the operating stem to accommodate flow direction.
Operating stem is easily marked to verify the position of the ball
Cap lugs ensure that pigs are fully inserted into the ball cavity eliminating binding when rotating the valve
Enhanced Design Features
New seat pocket & seat design features to incorporate sealant fittings allow for on-site servicing
Click below for Barber Pigging Valve Brochure

Request More Information