ABSA Certification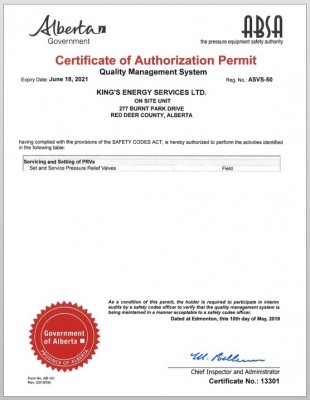 Kings Energy is very excited to announce that our Mobile Valve Servicing Unit is ABSA certified!
The unit is currently on it's first job, as scheduled, and is operating successfully. This remarkable, state-of-the-art structure will allow Kings to provide our highest standard of service on location to our valued clientele.
King's mobile unit is designed to handle any valve servicing need required by our valued customers. This unit is capable of servicing high pressure relief valves and ANSI/API valves. It is fully equipped to be self-sustaining and is operated by experienced, expertly trained, and customer oriented technicians. The mobile unit is certified across Canada ensuring our API Q1/ISO 9001:2015 and ABSA quality standards are maintained.