Maxitrol
After the Second World War, two things occurred that had a considerable effect on the natural gas industry: War-time embargos were lifted on the use of natural gas for fuel, and the availability of gas was increasing at a rapid pace throughout the Northeastern United States. Frank Kern Jr. purchased Detroit Regulator Co. in 1946. At that time the company was a small machine shop producing a line of gas pressure regulators, a model airplane engine, and servicing the local auto industry. Although Kern was initially more interested in the small gasoline airplane engine, the popularity of model airplanes declined after the war. While the company continued to do machine works, its primary focus shifted quickly to regulator development and production. Detroit Regulator had been marketing gas pressure regulators since it was incorporated in 1930.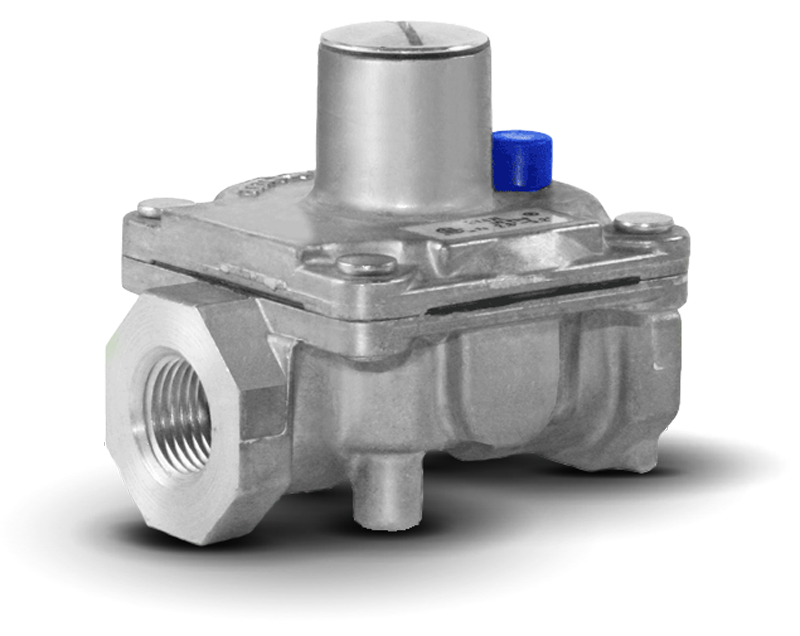 RV Series
RV Series poppet regulators are designed primarily for main burner and pilot load applications. Typical applications include residential and commercial cooking appliances, barbecues, hearth products, and pilot lines. They are rated up to 1/2 psi (35 mbar).
Request More Information

Maxitrol regulators
*Exclusive to Ontario*
325 Series
Description:
325 Series regulators are for 2 psi and 5 psi piping systems. Models available for appliance main burner or pilot applications and as line pressure regulators.
Models & Pipe Sizes:
Type
Model/Pipe Size
PSI
Appliance
325–3 (3/8″, 1/2″)
10
325–5 (1/2″,3/4″, 1″)
325–7A (1 1/4″, 1 1/2″)
325–9 (1 1/2″, 2″)
325–11 (2″, 2 1/2″)
Line Regulator
325–3L (3/8″, 1/2″)
2
325–5L (1/2″, 3/4″, 1″)
325–7AL (1 1/4″, 1 1/2″)
325–9L (1 1/2″, 2″)
325–11L (2″, 2 1/2″)
Line Regulator with OPD
325–3L47 (3/8″, 1/2″)
5
325–3L48 (1/2″)
325–5L48 (1/2″, 3/4″)
325–5L600 (3/4″, 1″)
325–7AL210D (1 1/4″, 1 1/2″)
325–9L210E (1 1/2″, 2″)
*CSA Certified Models
Suitable for:
Natural gas
Manufactured gas
Mixed gases
Liquefied petroleum gases
LP gas-air mixtures
Please inquire with your local Cambridge branch for more information on sizing and model availability.
Cambridge, Ontario
22-225 Sheldon Drive
Cambridge, Ontario N1T 1A1
Ph: (519) 455-1350
TF:: 1-800-486-1405
Fx: (519) 455-1351
Request More Information